It was January 2019, and we've been getting ready to launch our product on Appsumo. They are the largest software deals marketplace with over 1.5 million subscribers which I felt made it the perfect place to officially launch a new kind of chatbot platform to the world.
Launching on Appsumo is a lot of work. It took the rest of the team and me almost three months of meetings, online demos, content building, and negotiation to secure a deal date.

Before the official launch, our cost for a single chatbot having up to 500 conversations was $49 per month. We planned to offer Sumo-lings, the collective term for AppSumo's subscribers, lifetime access to a single bot for the same price. This was an incredible deal that both teams were confident would be a hit, and we launched Activechat into the Appsumo Marketplace.
The Start
The impact was immediate. Before the launch, the record amount of daily visitors to our website was 150. After the launch, it leaped to 1,500 a day, but that extra attention almost led to the end of Activechat. Appsumo's subscribers are mostly freelance marketers, and small agencies hunting for software tools and services they can re-sell to their customers, and they were not happy with the terms of the deal.

"One bot per coupon? BS, give us more!" was the type of comment on the deal page.

This initial negative feedback reflected low sales of the deal. After discussing with the AppSumo team, we increased the number of bots from 1 per coupon to 10 and upped the limit of monthly conversations from 500 to 5,000.

Sales and comments improved but Sumo-lings continued to demand more. A group of long-term AppSumo customers approached me and suggested I offer unlimited bots, with unlimited conversations for those who bought the maximum of 5 deals for $245. This is where I should have said "No" and stuck with ten bots per coupon, but I was obsessed with making this launch a success and agreed.

Sales sky-rocketed. In two weeks Activechat made it to the #1 product in Appsumo history with over half a million dollars in sales, 6,000 paying users, and over a hundred 5-star reviews for our product. This influx of users put a new level of demand on the tool and the team. The support team worked 24-hour shifts to fix issues and answer questions as soon as they were reported. Customer feedback was healthy and positive. Sumo-lings accepted that Activechat was a new product, and they were happy to wait for new features to be delivered.

The launch provided a massive cash injection into the company, the users were happy, and I was confident that we would build on that success to attract more monthly revenue from regular subscriptions.
The Tool
A quick note about the Activechat product. A long time ago, I started as a digital marketer specializing in chatbots. There are a lot of cool products out there, but they lack something important. Regular chatbots are limited to fixed responses to a user tapping pre-set buttons or typing a few phrases. This is restricting, and it's why most people do not like chatbots. When two people talk their conversation does not follow a strict path. Sometimes they answer a question with another question, sometimes they change topics mid-sentence or take a while to figure out what they're trying to say.

I dreamt of a drag and drop tool that would allow me to build chatbots capable of having complex natural language conversations for my clients. I could not find such a tool, so I decided to make one myself, and that's how Activechat.ai began.

Activechat goes far beyond a few menu buttons and simple, canned responses. A well built and trained Activechat bot can hold tens of thousands of real-time, natural conversations with visitors every day without the need for human intervention.

Combined with the ease of a drag and drop builder, I was looking forward to seeing the different bots built by this new army of Activechat users and a rise in sales.

Life proved me wrong.

The Catch
After the Appsumo launch, we offered fully-featured Activechat subscriptions on a freemium self-service model. We targeted small to medium-sized businesses with the belief they would trial the service and move to a paid subscription for additional bots and conversations.

Freemium growth was strong, with around 1,000 sign-ups each month for the next six months. Guess what? We did not close a single sale and had zero monthly recurring revenue!

Demand was also high for lifetime deals. Sumo-lings were selling on their unlimited bot accounts for up to $1,500 in some Facebook groups. People obviously wanted Activechat, so why weren't we selling more regular subscriptions?

And there was another problem that I was really worried about. Despite multiple investor and marketing pitches, I could not explain to myself – what's the problem that Activechat is solving.

The Frustration
Our first thought was that our freemium model was too generous. In July 2019, we limited our Free plan to a simple set of features and rebuilt our onboarding series to highlight the benefits of the premium subscription. This change barely moved the needle. We went from zero conversions to slightly over 2%, well below our forecasts.

By the end of 2019, the entire Activechat team felt defeated after almost two years building a powerful product that hardly anyone wanted to buy.

To make matters worse, we were under extreme pressure from Appsumo users who demanded immediate delivery of all the features that we promised. Only a few Sumo-lings were actively selling chatbots to their clients based on the powerful natural language features we were so proud of. The demand was mostly for features already offered by traditional chatbot services, and that was exactly what we did not want to be.
There was a major disconnect between the product we were building and the audience we were targeting, and if we didn't find it soon, Activechat was going under.

The Change
The big change came in December 2019 when Activechat was accepted into the 3rd batch of Overkill Accelerator. Overkill is a VC fund in Latvia to coach and fund startups. Working with the program and other SaaS founders, it became apparent what we had been doing wrong.

Activechat creates bots capable of answering questions for entire teams of sales and support staff 24×7, and you really can do things 10x more complex and 10x faster in Activechat than with any other competitor product. Even with our drag and drop builder, it is a significant investment of time to design and build a fully conversational natural language chatbot. That investment of time is overkill for most small to medium businesses who just want to deploy a simple chatbot with more traditional features.

With help from the accelerator program we'd discovered we were targeting the wrong people. The primary audience for Activechat wasn't small to medium businesses looking for a DIY chatbot. It was large Enterprises looking for a solution to a specific problem!

Enterprise customers wanted help with their customer service and communication. They wanted to reduce long waiting times for customers, lower the high workload for support teams, speed up internal requests, convert more sales and help leads, clients, and staff gets the answers they needed faster.

Armed with this knowledge, we rewrote our pitch and approached a large telecom company that immediately switched to us from a competitive product. That relationship further refined our value message and opened doors to other Enterprises.

This new understanding of the specific problem we solve for an Enterprise rebuilt our cold outreach program. We've built a new sales team of 2 lead research specialists and one sales development representative who do their best to close demos made by me as founder, and we started the cold outreach that actually brings us demos and starts to fill in our pipeline. This new approach has increased our monthly revenue from $42 to $3,700 per paying user, and that keeps growing with every new deal!

We now have many enterprise deals in the pipeline, and we've been approached by a company with 19 million small business customers to discuss reselling our product to them as an add-on service. We know we'll have to progress those small businesses with more structured hand-holding for them to get the most out of Activechat. We know this because we learned that customers might love you for your product, but they only pay you for solving their problems.

Activechat no longer builds products; we solve problems. That's how we survived the most successful launch ever on Appsumo.

The Tool (revisited)
Now we're closing a larger seed round with Overkill (there's still space in it if you're an early-stage investor reading this!), but most importantly now we know what kind of problems we're solving for our customers. We also know who these customers are.

We help large enterprises improve everything that has to do with customer service and communication. We're fixing long waiting times, the high workload for support teams, low CSAT levels, low conversions, the complexity of multichannel communication, etc. And we're targeting large companies in telecom, services, SaaS, and e-commerce – they are aware of these problems, actively seek solutions and are ready to pay high prices once the solution is clear.

To the powerful chatbot platform that we already had, we've added live chat CRM and conversational intelligence AI tools, and now we provide a complete solution for all customer communication needs. We help automate mundane support conversations with chatbots and we help improve the efficiency of more complex conversations carried out by humans. Activechat helps bots and humans work hand in hand for awesome customer service and increased sales.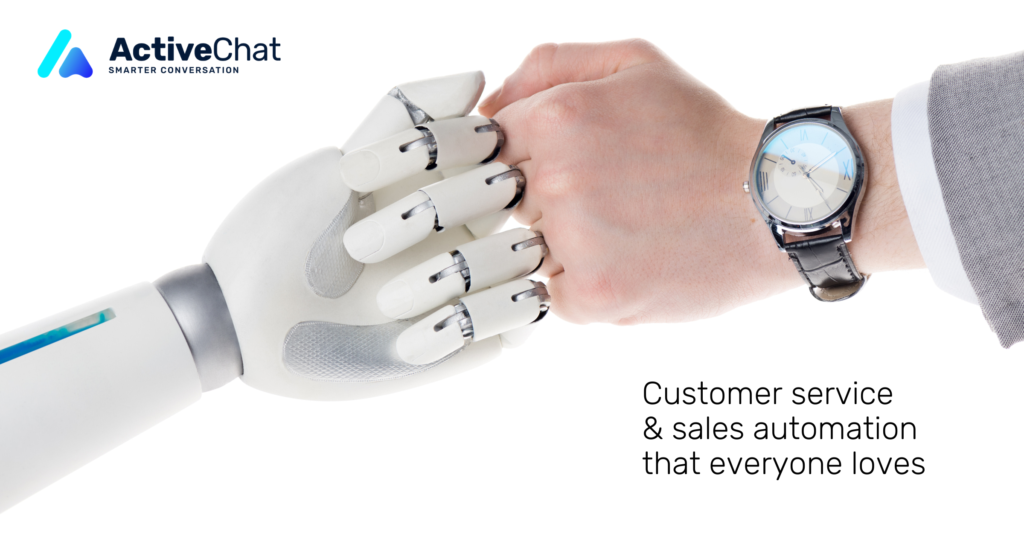 We're still perfecting both our software and our presentation skills, but it's getting better every day and we start feeling confident that we can compete with big players like Intercom, Drift, Gong.io, or even Salesforce – we have a vision and a secret sauce that helps us do that.
The Ask
Everyone's tired of answering the same support questions over and over again. They are tired of confusing IVR menus, long waiting times, and soulless announcements. We know how to make automated conversations bring value and feel human, and we know how to reduce stress and take the load off of human support teams.

If you'd like to see how Activechat can massively reduce the demand on your sales, support, and internal teams while increasing your service to Wow! level then let's get in touch.

If you can introduce us to a large enterprise that does a lot of customer communication, we can help them reduce costs and increase the quality of service at the same time.

If you're an investor potentially interested in joining our seed round led by Overkill Ventures, send me an email and let's talk. I'm available at Andrew [🐶] activechat.ai.

Let's talk?
This article was edited by Stephen Gordon from Email Marketing Superstars